Jillian Janson can't wait to press her lips to Megan Sage's. Once she finds her lover willing, Jillian is quick to relieve Megan of her bra, opening Megan's breasts to be licked and sucked until the raven-haired coed's nipples are rock hard. Leaving Megan to play with her own tits, Jillian continues her journey south until she has relieved Megan of her panties so that she can dive in for a bald pussy feast.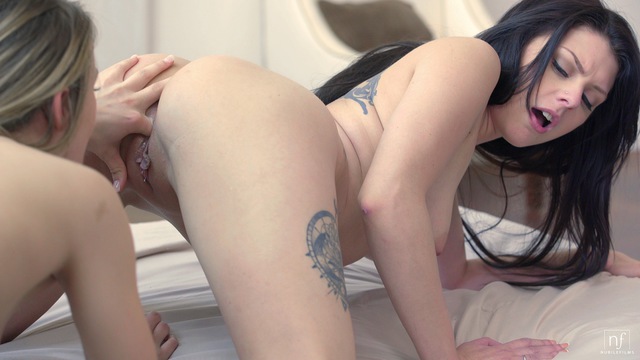 After sampling Megan's pierced clit, Jillian is quick to dive in for a long leisurely taste. She then moves on to lapping at Megan's bare slit, making the journey over and over again with long strokes of her tongue. She takes her time, drawing out every last bit of Megan's pleasure for as long as she can.
Before Megan is able to reach her climax, Jillian changes things up. She shimmies out of her bra and thong, and then turns around so that she can continue to fondle Megan's snatch while Megan buries her face in Jillian's twat for a lesbian 69.
Megan is overjoyed to finally have a chance to enjoy herself with Jillian's fuck hole. Pressing her mouth to the smooth skin of Jillian's twat, she drops sweet kisses and naughty licks before sliding her hand up to caress Jillian's clitoris to bring her moans to new heights.
Once Megan's hip twitch with the force of her climax, Jillian leans back and enjoys the full-fledged attention as her lover tries to bring her to the same release. Using her hands and mouth in tandem now, Megan slides a finger in and out of Jillian's fuck hole while working the blonde's clit at the same time. It takes some time, but Megan is gradually able to achieve her goal.
Getting up onto her hands and knees, Megan spreads her knees in anticipation of round two. Jillian is happy to oblige her lover, going back to work with her talented mouth to eat out Megan's creamy hole. Once Jillian transitions to using her fingers, Megan can't hold back pumping her hips and gasping her approval of Jillian's every touch.
Knowing that it is finally her chance to shine giving Jillian her undivided attention, Megan takes advantage when Jillian lays back on the pillows. She starts by teasing Jillian's shaved twat with her tongue before moving on to a languorous pussy licking where she can explore every inch of Jillian's smooth twat with her tongue. When she finally gets serious about bringing Jillian off, Megan holds nothing back with either her fingers or her mouth as she works overtime to leave Jillian gasping and moaning in the afterglow of an explosive climax.